Skip to Content
hotel rancho bernardo inn san diego
Our Story
Welcome to Rancho Bernardo Inn, where endless stories and memories quietly reveal themselves at every turn. Our Southern California spa and resort is a place to play, unwind, reconnect, and celebrate with family and good friends — whether you go way back or are just meeting for the first time.
Rancho Bernardo Inn opens with 30 guestrooms. The Resort Course opens with 18 championship holes designed by William Bell, architect of Torrey Pines and La Jolla Country Club. The main building, 200, 400 & 500 buildings are completed.
Art Wall wins the PGA San Diego Open, and $30,000, with a score of 274.
Rancho Bernardo Inn expands to 151 guest rooms and our beloved El Bizcocho opens.
JC Resorts acquires Rancho Bernardo Inn.
The Inn becomes a AAA Four Diamond Hotel (2015 marks the 39th straight year it has been honored with that designation).
Sally Little wins LPGA Kathryn Crosby/Honda Civic Classic with a score of 282, defeating Nancy Lopez with a par on the first extra hole. The winner received $22,500.
Joanne Carner wins the Honda Civic Classic, and $22,500, with a score of 281, defeating Pat Bradley and Sandra Post.
Joanne Carner defends her championship with a score of 279 and takes home $22,500.
The Inn is expanded with two more guestroom buildings. The 100 and 600 buildings are constructed, and part of the 700 building.
Ted Robinson enhances the Resort Course, adding spectacular new water features on the 9th and 18th holes.
Rancho Bernardo Inn grows to 287 guest rooms with the completion of the 700 building, also adding the Catalina Ballroom and a fitness center.
The Resort Course is remodeled by Schmidt & Curley. The firm adds a fourth set of tees, reshapes each of the 61 bunkers, and fills them with brilliant Augusta white sand.
The Inn becomes a Preferred Hotels & Resorts member.
Patrick Ponsaty, Executive Chef at El Bizcocho, is named Best Chef in America by James Beard and holds an event at the James Beard House in July of that year.
The Spa at Rancho Bernardo Inn is expanded to include a saline pool and cabanas, seven indoor treatment rooms, and five outdoor casitas. It is awarded #1 Hotel Spa in North America by Condé Nast Traveler magazine.
Chef Gavin Kaysen represents the U.S. in the Bocuse d'Or competition in Lyon, France.
The Aragon Ballroom is added.
The Veranda is remodeled and becomes Veranda Fireside Lounge & Restaurant. The Sports Bar is completely remodeled and becomes The Bar.
After a $2.5 million renovation, El Bizcocho closes and re-opens as AVANT.
The ballrooms and meeting venues are updated for modern event needs and sensibilities.
Guest rooms and suites are reinvigorated with fresh paint and tasteful, new furniture and bedding.
1963
1964
1968
1975
1977
1978
1979
1980
1982
1986
1988
1998
1999
2003
2007
2009
2012
2019
2022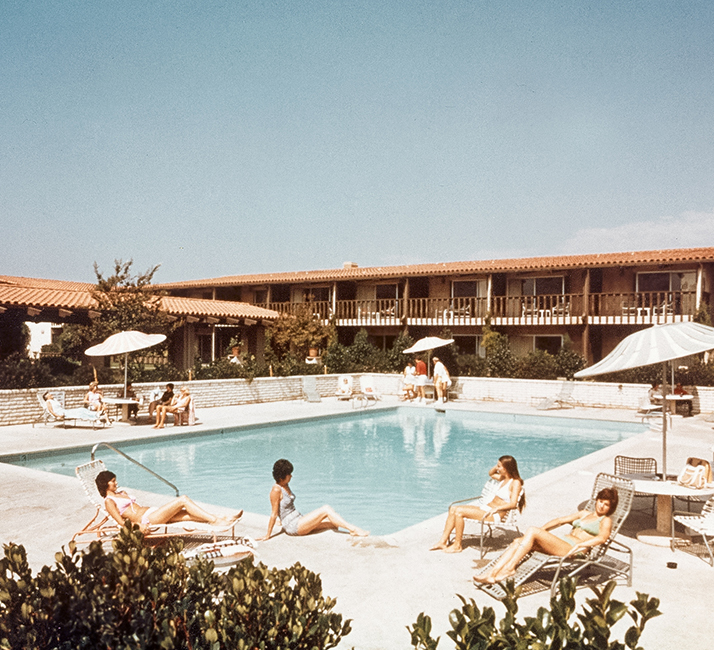 The Early Years
Rancho Bernardo Inn opened its doors with 30 rooms in 1963. Room rates started at $8, an all-you-can-eat fish fry at Veranda was $1.50, and guests were invited in to watch TV on a color television. Designed by Torrey Pines and La Jolla Country Club architect William Bell, the resort course opened with 18 championship holes.
In 1964, the resort hosted the PGA San Diego Open, which Art Wall won with a score of 274 and a purse of $30,000. From 1978 to 1980, we hosted the LPGA Honda Civic Classic. In 1978, Sally Little won the tournament with a score of 282, defeating Nancy Lopez with a par on the first extra hole.
In 1968, the resort grew to include 151 guest rooms and our beloved El Bizcocho restaurant opened. A renowned fine-dining experience, it was enjoyed by guests and city residents and became a local institution of national renown.
Acclaim, Recognition, & Growth
Chefs such as Patrick Ponsaty and Gavin Kaysen honed their skills in the "El Biz" kitchen, earning the eatery a loyal following. In 2013, with food trends shifting to a more social sharing experience, El Bizcocho was respectfully closed. After a $2.5 million renovation, AVANT opened its doors in June of that year to wide interest and acclaim.
Since its inception, the resort has expanded to include a Condé Nast Traveler award-winning spa, redesigned golf course, and the addition of 250 more guestrooms.
Property Refresh
We have always sought to provide our guests with casual elegance, and in doing so have proudly become a mainstay in North County San Diego. Our vision is to continue our commitment to those founding principles as we continue growing and offering new and exciting spaces and programs for our guests.