Skip to Content
bring the entire family
Pet Friendly Getaways
We are delighted to have you and your fur babies visit Rancho Bernardo Inn. Responsible pet owners who travel with their well-mannered pets are welcome to stay together at our resort. Rancho Bernardo Inn is pet-friendly, but to make sure we have an appropriate room reserved for you, let us know you'll be staying with your pet in advance — ideally when booking. Please note, there is a $150 non-refundable pet service fee.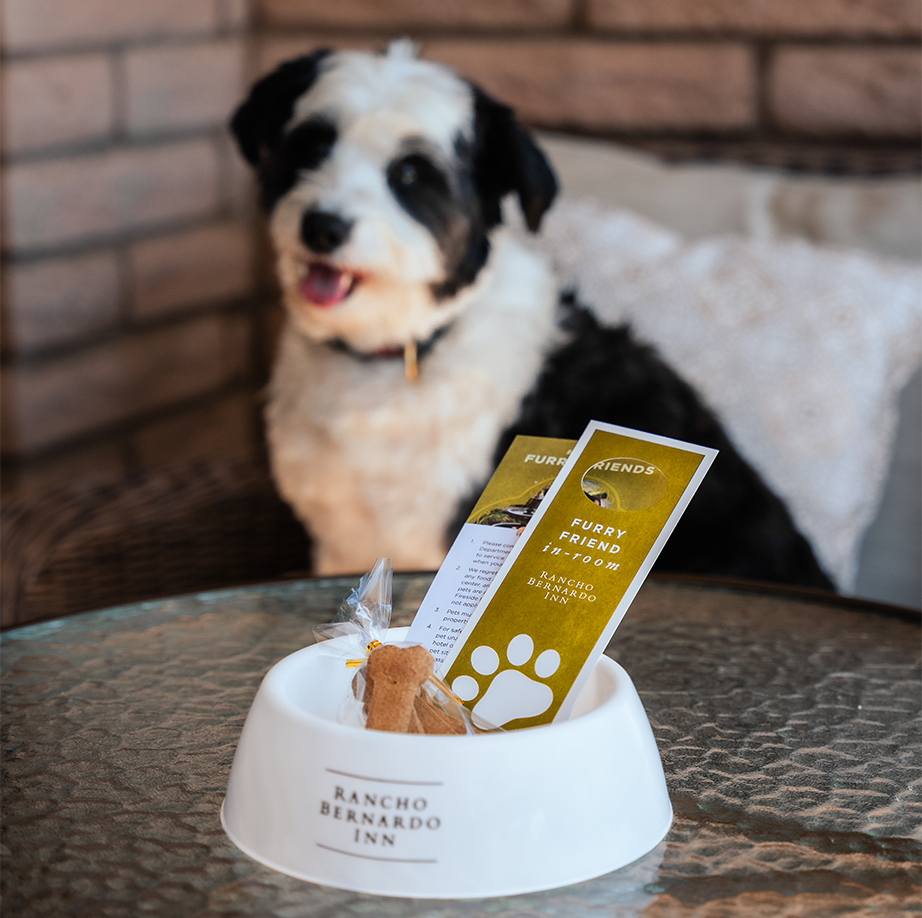 Our Pet Policy
We are delighted to have you and your animal as our guests! To ensure the safety and comfort of all our guests and staff, we appreciate your compliance of the following rules:
Guests are solely responsible for the maintenance of their animals and will not permit their animals to interfere with other guests' use and enjoyment of the premises or cause a nuisance.
Guests will keep their animals under control at all times. Pets must be leashed when outside their room unless wearing a leash would interfere with a service animal's ability to perform a task.
Guests understands and agrees that unreasonable amounts of barking and noise, excessive smells, unattended animal waste, and any acts of aggression by their animals may unreasonably interfere with other guests' use and enjoyment of the premises and may constitute a nuisance. Each guest is responsible for preventing and immediately correcting any such disturbance.
Guests will promptly clean up after their animals and will fully dispose of their waste.
Guests will ensure their animals wear proper identification tags at all times while on the premises.
Guests will not leave their pets unattended in public areas or inside their rooms.
Guests will immediately notify the front desk of any damage or accident caused by their animals, so we may try to prevent any permanent damage. Guests will immediately pay for any damage, loss, or expense caused by their animals, including for cleaning, treatments, and repairs. These amounts may be charged to a guest's credit card.
Please contact the Housekeeping Department to arrange a convenient time to service your room; you must be present when your room is serviced if your animal is in the room during housekeeping service.
Pets are NOT allowed inside any food and beverage outlets, the spa, the fitness center, any meeting rooms, the golf course, or the golf pro shop.
Pets are subject to a $150, one-time non-refundable cleaning fee that will be applied to your hotel room folio to prepare your room for our next guest.