Skip to Content
rancho bernardo wedding venues
Wedding Venues
From This Day Forward
A love-struck look. A knowing smile. Friends laughing at a table. Your favorite song. An unforgettable wedding is composed of mental images that linger like snapshots in your memory. With our diverse selection of Rancho Bernardo wedding venues, we can help you create the perfect backdrop to your moments of bliss.
Intimate & Inviting
Rehearse and dine, walk down the aisle, and celebrate. Our resort's breathtaking indoor and outdoor spaces can be set up to reflect your personal style and make the most of your special occasion, no matter what it calls for.
Start Planning
Aragon Ballroom
& Lawn
Host your nearest and dearest in grand style. The indoor ballroom offers multiple options for unique set-ups and lighting, and the elegant and sun-graced lawn's white garden roses, rustic benches, and grapevine trellises make it an ideal spot for a garden wedding.
Ballroom – Up to 500 Guests
Lawn – Up to 500 Guests
Promenade
This expansive terrace with a panoramic golf course view from its paved courtyard and olive trees adorned with the soft glow of rustic lanterns offers a picturesque setting for a large outdoor gathering.
Up to 220 Guests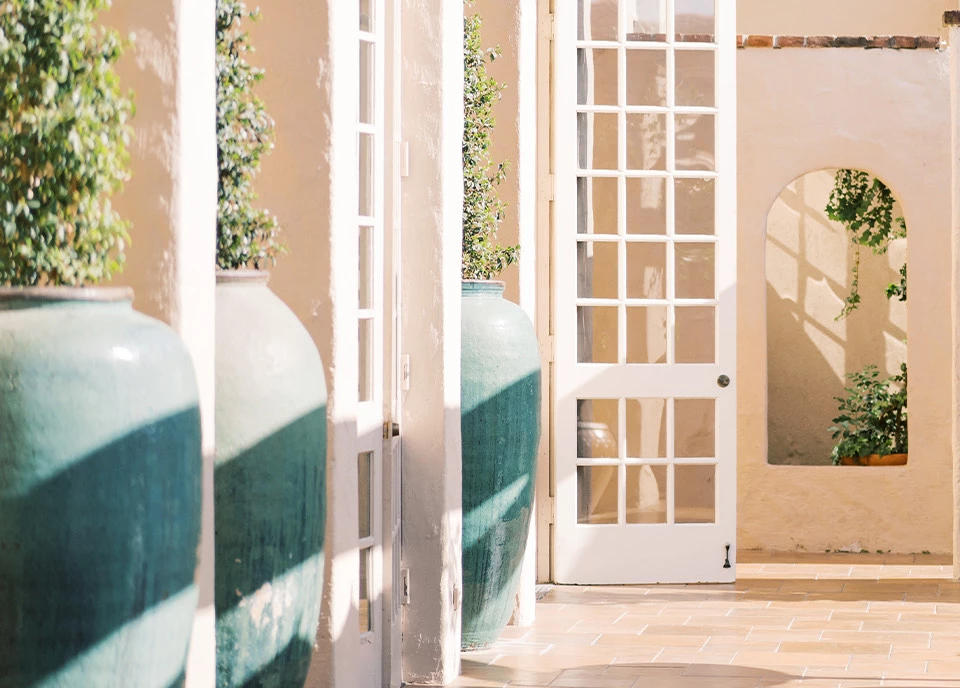 North Lawn, Bernardo Patio & Ballroom
Treat your guests to an intimate garden setting in this secluded venue where an iron arbor sets the stage for your picturesque ceremony. Enjoy a sense of privacy within a fragrant garden of white roses surrounded by a manicured lawn.
Up to 220 Guests
Santiago Ballroom & Courtyard
Whether you dance the night away in the stunning ballroom, transport your guests to the Mediterranean in the adjacent courtyard with its waterfall and Italian fountain, or hold a grand event across both spaces, this venue will sweep you off your feet.
Ballroom – Up to 150 Guests
Courtyard – Up to 150 Guests
First Tee
Golf Course
Make a dramatic entrance into the scenic setting on the championship golf course's first tee. With a quaint wooden bridge in the background and a stunning view of 18th hole water feature, this simple, natural venue will leave a lasting impact.
Up to 220 Guests
Valencia Lawn, Santiago Courtyard & Ballroom
Host an intimate cocktail reception indoors or elevate the romance outdoors surrounded by historic trees and a verdant setting. A gorgeous stone backdrop and dramatic staircase set the stage for a grand entrance, while the wishing-well fountain and view of the mountains keep the magic alive.
Ballroom – Up to 150 Guests
Lawn – Up to 150 Guests